BBR FireShield
Fires, especially hydrocarbon fires caused by tanker accidents, pose a risk to the structural integrity of stay cable bridges and other structures. The unique BBR FireShield can keep the underlying critical stay cable and post-tensioning anchorage components cool for way in excess of the minimum requirement of current recommendations – providing precious extra time for firefighting crews to deploy to the sites to contain the fire. It is easy to apply, can be retrofitted with minimal intervention and allows continued accessibility or inspection.

BBR FireShield offers verified protection for stay cable and post-tensioning systems in the event of a high temperature hydrocarbon fire.
Key Features
Exceeds performance requirements of international recommendations - proven by tests involving exposure to a 1,100oC fire where internal components remained below 300oC for far longer than the mandated 30 minutes.
Modular fire protection mat is adaptable for different tendon sizes.
Hydrophobic lightweight protection mat prevents water absorption.
Intumescent coating – also provides corrosion protection.
Ease of installation, inspection, maintenance and replacement.
Applicable for both existing & new stay cables & post-tensioning systems.
Solution ensures public safety, reduces labor & energy costs - while installation requires no interruption to traffic.
CONNAECT 2021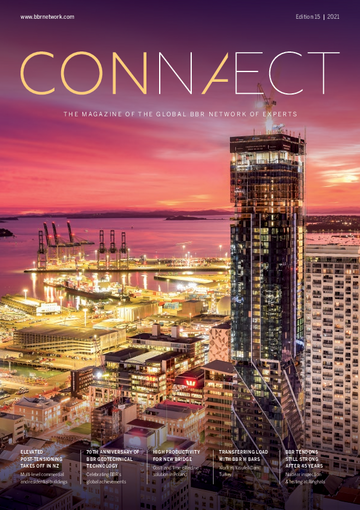 Read more about BBR FireShield in the 15th Edition of the BBR Network corporate magazine.
Read more here

Applicable technologies