HiAm/DINA wire stay cable systems
Not only is BBR® the pioneer and inventor of the high amplitude fatigue resistant HiAm® wire stay cable, we also constructed the world's first project using such technology. HiAm/DINA® stay cables are completely prefabricated, installed and stressed as a complete unit, which results in the highest possible quality control of the cable and fastest possible cable erection cycle on the construction site.
The standard HiAm/DINA wire stay cables are composed of 7 mm low relaxation grade wires. Typically, the wire bundle is covered with a thick-walled HDPE sheath, and the voids between the wires are filled with a flexible corrosion protection compound. The choice of anchorage is mainly governed by economics and manufacturing considerations. The following gives an indication of the typical sizes:
DINA anchorages for small to medium size cables (between 13 and 241 wires)
HiAm anchorages for medium to larger cables (between 56 and 499 wires
In the anchorage, the wires of the cable are spread out and are anchored by means of mechanically formed BBR buttonheads. The spaces between the wires in the anchorage cone are filled with a proprietary epoxy compound, which prevents fretting and the ingress of air or moisture and improves the general fatigue resistance of the anchorage.
Lock nuts screwed onto the anchorage transfer the cable loads to the supporting bearing plates. As an alternative to a lock nut, shims may also be used. The lock nut or the shims allow for a length adjustment of the stay cable during stressing. Hence, additional stressing and de-stressing operations of already installed and stressed stay cables can be performed on the whole bundle of wires.
BBR Stay Cable References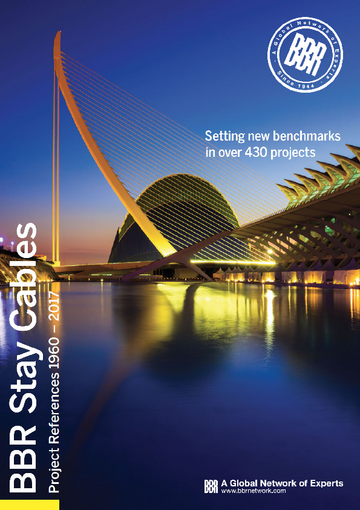 430 reasons to choose the BBR Network
See our Downloads page

Sunniberg Bridge
The award-winning Sunniberg Bridge – near the Swiss alpine ski resort of Klosters – represents the culmination of years of technological development at BBR, combined with the skills and inspiration of leading Swiss designer Christian Menn. When the project – featuring DINA stay cables – was completed, it was acknowledged as a great example of aesthetic design, structural form, quality and cost. The project was awarded IABSE's Outstanding Structure Award.