BBR H Bar system
The BBR H Bar is a hot rolled and coarse-threaded steel bar with widest range of bar diameters on the international market place. It is available with steel grades ranging from 500/550MPa to 930/1080MPa (yield/ultimate), different grades available on request, and in diameters from 16mm to 75mm. The BBR H Bar has a specially designed continuous hot rolled thread over its entire length allowing it to be easily cut or lengthened with couplers at any location. With its reliability, robustness and ease of installation and the full range of accessories, BBR H Bar is the ideal system for the most complex and technically challenging construction and underground applications.

Key features
Widest range of bar diameters from 16mm up to 75mm
Continuous robust thread appropriate for all environmental conditions and suitable for cutting or lengthening with a coupler at any location
High quality threaded bar system
Widest range of bar grades from 550MPa up to 1080MPa (ultimate)
Full range of accessories facilitate easy and reliable installation
Suitable for temporary or permanent applications
Available in standard factory lengths (custom lengths on request)
Tested to the latest international standard
BBR H Bar System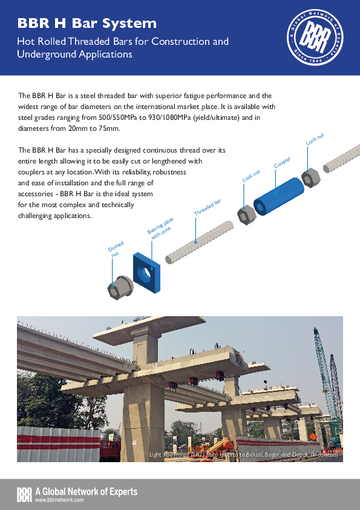 Hot rolled threaded bars for construction and underground applications.
See our Downloads page